YOU ARE HERE Professional services > Gardening trade services
Commercial gardening & horticultural trade services
As an experienced gardening author, journalist, radio and TV presenter and book and web editor, I can provide a wide range of professional services to the gardening trade, gardening companies, garden centres etc.
My gardening trade and commercial services include:
* Press and PR campaigns
* Brochure and catalogue writing, production & printing
* New product advice, testing & promotion. I'm the product tester for Garden News
* Talks & demonstrations at flower shows, garden centres etc.
* Training for garden centre staff
E-mail me if you want to know more
View my CV (24KB pdf download)
Below are just a few of the commercial and PR services I can provide.
Trade catalogues
I produced the trade catalogue for Greenacres Horticultural Supplies/Greenacres Direct from 1999 to 2012.
View the Greenacres Horticultural Supplies/Greenacres Direct catalogue (2.2MB pdf download)
PR activity
* I have been involved with promoting a number of gardening companies and products, including launching new products onto the market.
* I'm working with TDP to create further interest in the company's fabulous range of garden furniture and planters made from 100% recycled plastic.
View the latest TDP press release (270KB pdf download)
* I've worked with Bosch Power Tools to help promote the company's new products, especially the Ciso Cordless Secateurs. This has involved talking to groups and producing practical videos.
* I worked on the launch of the FIGO flexible connector, which was launched to much acclaim at Glee.
View the latest FIGO press release (240KB pdf download)
* I've instigated and run PR campaigns for de Jager bulbs, Greenacres Horticultural Supplies, Rainbow Trugs and Heritage Gardens.
View de Jager (276KB pdf download) and Rainbow Trugs (189KB pdf download) press releases.
* I was the Press Officer for The Scotts Miracle-Gro Company.
Talks & Q&A sessions
I have been involved with numerous flower and gardening shows and garden centres, where I give talks and practical demonstrations, and as a member of Q&A panels.
The shows include RHS Chelsea Flower Show, Hampton Court Palace, Gardeners' World Live, Harrogate, Malvern, Southport and The Daily Mail Gardening Question Time Roadshow.
If you want to know more, send an e-mail to: info@gardenforumhorticulture.co.uk

To view pdf documents you will need a copy of Adobe Acrobat Reader. I strongly recommend that you download the latest version to prevent problems viewing them.
This is available free from the Adobe website. Click on the logo to visit the website.
Professional services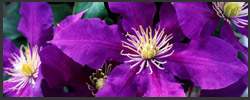 Online shop