YOU ARE HERE Garden answers > Ponds & water features
Ponds & water features
Help solve your gardening problem. Here are the answers to some commonly asked gardening questions about ponds and water features with hints, tips and advice.
If you are unable to find the answer here, then send me an e-mail
I'm wondering what plants I can put in my new pond and when. I need info on hostas in particular and other water plants you may suggest.
I would leave planting the pond until spring. The water needs time to settle and for dissolved nutrients to dissipate. Also, you won't be able to buy many plants in autumn and winter.
In spring, go out and buy oxygenating plants first - you'll need one bunch for every 2 sq ft of water surface. After another two weeks you can start introducing the marginal and other aquatic plants.
Hostas aren't suitable as pond plants - they are planted in the soil around the outside of the pond. There are literally dozens of plants to choose from, so I suggest you get a good book on the subject. The Rock and Water Garden Expert by Dr D G Hessayon is excellent and only costs a fiver.
My particular problem relates to blanket weed in a small tub feature.
In your situation, blanket weed will be a problem because the tub isn't deep enough, there's too much light hitting the water and because the temperature of the water increases.
Try shading the water surface a bit more; water lilies and floating aquatics will help. Or move the tub somewhere where it doesn't get so much direct sun in summer.
Lots of dissolved nutrients in the water will also encourage growth, so feed plants to a minimum (and fish if there are any in there).
If this doesn't help, you could add a few handfuls of barley straw (available from aquatic stockists) which causes the blanket weed to flocculate and drop to the bottom. If this doesn't work there are more powerful chemical agents which should work; these are also available from aquatic stockists.
If you want to know more, or if there's a gardening topic you're having a problem with and want help and advice, then send an e-mail to: info@gardenforumhorticulture.co.uk
Professional services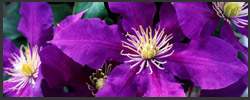 Online shop