YOU ARE HERE Garden answers > Plant importing
Plant importing
Help solve your gardening problem. Here are the answers to some commonly asked gardening questions about plant importing - importing plants to the UK.
If you are unable to find the answer here, then send me an e-mail
I am going to Australia and wonder if I am allowed to bring back any plants. I understand that there are no problems bringing in plants from Europe.
There will be restrictions on what plants you are able to bring in from Australia - or other countries for that matter.
Full details can be found on the HM Government website
Find out about importing plants from the EU (47KB Adobe Acrobat pdf)
If you want to know more, or if there's a gardening topic you're having a problem with and want help and advice, then send an e-mail to: info@gardenforumhorticulture.co.uk
Professional services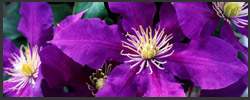 Online shop