YOU ARE HERE Garden answers > Floral art
Floral art
Help solve your gardening problem. Here are the answers to some commonly asked gardening questions about floral art and flower arranging with hints, tips and advice.
If you are unable to find the answer here, then send me an e-mail
I've just started to get interested in flower arranging, and I want some hints on the best way to pick flowers.
You should always pick your blooms on a dry day, either in the morning or the evening, just before they are fully open.
Place them immediately in a bucket half-filled with tepid water so that the stems don't dry out, and keep the bucket out of full sun. Ensure that your knife or secateurs is sterile to avoid infection, and make a sloping cut in the stem to expose a large area of the stems' water absorbing tissues. Remove the lower leaves that would be submerged in the arrangement to stop them rotting.
If you want to know more, or if there's a gardening topic you're having a problem with and want help and advice, then send an e-mail to: info@gardenforumhorticulture.co.uk
Professional services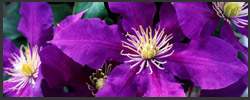 Online shop