YOU ARE HERE Garden answers > Christmas trees
Christmas trees
Help solve your gardening problem. Here are the answers to some commonly asked gardening questions about Christmas trees with hints, tips and advice.
If you are unable to find the answer here, then send me an e-mail
Please give me advice on keeping my Christmas tree looking good.
First, keep the tree outside for as long as possible - try and stick to the traditional 12 days of Christmas!
You can buy a Christmas tree spray that helps prevent needle drop which is worth doing - especially on potted trees you hope to keep for another year; the usual one available is called Spray 'N' Save.
When you bring it indoors keep it well away from sources of heat - radiators and fires.
If it's a potted tree keep the compost constantly moist. If it is a cut tree, remove the bottom inch of stem and stand the tree in a container that you can add water to; keep this constantly topped up.
If you want to know more, or if there's a gardening topic you're having a problem with and want help and advice, then send an e-mail to: info@gardenforumhorticulture.co.uk
Professional services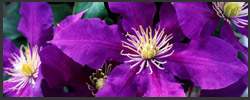 Online shop