YOU ARE HERE Clematis pruning > Clematis pruning list
Clematis pruning groups
For pruning, clematis are divided into three groups depending on when they flower, which affects how and when they are pruned. The following lists of cultivars/varieties and species will help you get your pruning right.
Group 1
C. alpina
C. armandii
C. x cartmanii
C. cirrhosa
C. macropetala
C. montana
Group 2
Angelique
Arctic Queen
Asao
Barbara Jackman
Bees' Jubilee
Bella
Belle of Woking
Beauty of Worcester
Burma Star
Carnaby
Countess of Lovelace
Daniel Deronda
Dawn
Doctor Ruppel
Duchess of Edinburgh
Edith
Elsa Spath
Empress
Fair Rosamond
Fireworks
Clematis florida var. sieboldiana
Fuji-musume
General Sikorski
Guernsey Cream
Haku Ookan
Hanagurama
Henryi
H F Young
Hybrida Sieboldii
Ice Maiden
Jackmanii Alba
Jackmanii Rubra
Joan Picton
John Paul II
John Warren
Josephine
Kathleen Wheeler
King Edward VII
Lady Caroline Nevill
Lady Northcliffe
Lasurstern
Lemon Chiffon
Marie Boisselot
Matka Teresa
Miss Bateman
Moonlight
Mrs Cholmondeley
Mrs George Jackman
Mrs James Mason
Mrs N Thompson
Nelly Moser
Niobe
North Star
Pink Champagne
Pink Star
Prince Philip
Princess Alexandra
Proteus
Rebecca
Royal Velvet
Royalty
Silver Moon
Snow Queen
The Bride
The President
Twilight
Vyvyan Pennell
Wada's Primrose
Walter Pennell
Wedding Day
W E Gladstone
William Kennett
Group 3
Abundance
Alionushka
Ascotiensis
Duchess of Albany
Ernest Markham
Etiole Violette
Clematis florida Plena
Gravetye Beauty
Huldine
Lady Betty Balfour
Madame Baron Veilard
Madame Edouard Andre
Madame Julia Correvon
Margaret Hunt
Clematis orientalis
Petit Faucon
Polish Spirit
Princess Diana
Royal Velours
Sir Trevor Lawrence
Clematis tangutica
Clematis texensis
Clematis x triternata Rubromarginata
Victor Hugo
Victoria
Ville de Lyon
Clematis viticella
Warsaw Nike
Wisley
Some mid- to late summer flowering clematis can be treated as either Group 2 or Group 3 as needed. Treat as a Group 3 if the clematis is top heavy and not growing/flowering well or Group 2 if it is flowering well.
These include:
Comtesse de Bouchaud
Gipsy Queen
Hagley Hybrid
Jackmanii
Jackmanii Superba
John Huxtable
Perle d'Azur
Rouge Cardinal
Star of India
If you want to know more, or if you've got a gardening problem you need help with, then send an e-mail to: info@gardenforumhorticulture.co.uk
Professional services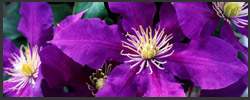 Online shop